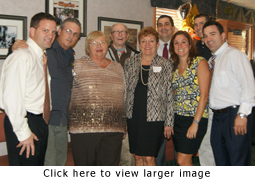 Mr. Sherwood opened his first Village Inn in 1961 on Dale Mabry in Tampa, FL. This Village Inn quickly became the breakfast place for Tampa business people and politicians, for tourists, for the Cincinnati Reds, and for New York Yankees owner George Steinbrenner, who loved the pancakes and maple syrup, and felt that way about Sherwood too. Dow was loved by all and would draw crowds of people waiting to hear his corny jokes. One he is best known for is when he would ask all the customers, "you want to see my Pride and Joy? He would then flip over a card everyone assumed was a photograph of his family. It wasn't. It was a picture of Pride and Joy soap products. He would follow by asking "Isn't that fantastic?", while flipping over a picture of the spray cleaner Fantastik. While Dow was entertaining his customers his wife, Mary, was busy making sure the food was coming out perfectly and everything was in order in the kitchen. She was known as the tough one in the back of the restaurant, while Dow kept his guests smiling in the front. Together they made sure everyone felt welcome and had a wonderful meal that would leave them coming back for more.

Dow Sherwood Corporation soon expanded and opened more Village Inns in the Tampa Bay area. In addition, a few years after the Dale Mabry Village Inn opening, Mr. Sherwood met Colonel Sanders' daughter on a plane and eventually acquired the KFC franchise in the Daytona Beach area. The KFC Division was eventually sold in January 2007.

Dow Sherwood opened a dinner theater, the Showboat, in Pinellas Park in 1967 after seeing a Wall Street Journal ad and touring east coast theatres. He gave away opening night proceeds to charity. The dinner theater business proved to be volatile and the Showboat ceased operations in the early 1990's.

The second generation began running Village Inn in the late 1980's. Dow and Mary Sherwood's daughters, Mary Kay Walker and Virginia Sherwood, did a great job of making sure everything was running smoothly and some of their sons joined the company to help out. John Sherwood became the company's handy man and Mark Walker and Paul Walker both managed stores and oversaw the company alongside their aunt and mother. Matt Walker later helped manage the stores while attending college. In 2002 Jim Walker moved from Chicago to Tampa to help with the family business. The company is now owned and run by the 3rd generation; Paul Walker is currently President of Dow Sherwood Corporation and Jim Walker is Vice President. Mark Walker is the General Manager of the Dale Mabry store and Matt Walker serves on the Board of Directors. Dow Sherwood Corporation currently owns 10 store; 9 restaurants in the Tampa, Clearwater, Orlando and Jacksonville areas, as well as one restaurant in Virginia Beach, VA.

The Dale Mabry and Kennedy Village Inn remains a leading franchise in volume and in sales. As a leading franchise, the company continues to uphold Dow Sherwood's legacy of giving back to the Tampa Bay area through charities and fundraisers, as well as providing a warm, inviting atmosphere where customers can get delicious food! As George Steinbrenner said during Mr. Sherwood's eulogy, "as fine a man as I have ever known, as charitable a man as I have ever known. The loss can't be measured." Mr. Sherwood would be proud of all the company employees who work so hard on a daily basis to provide the level of hospitality he continually strived to provide to his guests. The employees of Dow Sherwood Corporation today would truly be his "Pride and Joy".

The Dow Sherwood Corporation celebrated 50 years on November 4, 2011 at the Dale Mabry restaurant. Kids enjoyed a balloon artist and a visit from Bucky the Bear while adults strolled down memory lane and were warmed by old faces from the past 50 years. To honor Dow Sherwood as the 1st President of the Gold Shield Foundation, donations were taken in the Village Inn lobby for the Gold Shield Foundation. Anniversary t-shirts were also given away.