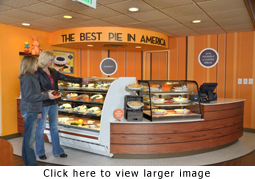 After 31 years, Dow Sherwood's Clearwater Village Inn will be moving just 1 mile west on Gulf to Bay. Owner Paul Walker reports that "our lease was up at our Clearwater store and we decided to take advantage of this conveniently located, larger space." Customers will continue to retain the warm, homey feel of Village Inn, but in a more contemporary manner as Dow Sherwood Corporation will be remodeling their new space in the new Village Inn "deco modern" style. According to Mr. Walker, "The new management at our Franchisor, American Blue Ribbon Holdings, has brought an exciting level of leadership to our concept. The new prototype we are converting to will attract many demographics; on one had it will be retro that appeals to the baby boomers, and on the other hand it will be modern that appeals to the younger contemporary group."

Guests will continue to enjoy Village Inn's famous buttermilk pancakes, mouth watering omelettes and other traditional breakfast items including unlimited hot coffee refills. Their skillets, filled with an assortment of tempting ingredients make Village Inn a sought after destination. Rounding out their wholesome menu are more of the country's favorite foods . Village Inn offers something for everyone including fresh green salads, juicy burgers, all American sandwiches, traditions dinner entrees and well loved children's items. It's no secret that what keeps people coming back to Village Inn, aside from the pancakes, are the pies! Village Inn has an array of award winning pies and are known as "the best pies in America." From French Silk, Lemon Supreme, Country Apple, Caramel Pecan Silk Supreme, there is sure to be a pie that melts your mouth. Each month, Village Inn will continue to feature a specialty pie of the month. The first pie of the new store will be June's Caramel Mocha Almond pie.

Guests will also receive the same promotions at our new location such as Pie Rush Wednesday where guests receive a free slice of pie with any item, as well as all you can eat Fish Fry every Friday for just $10.99. Customers can also sign up for Village Inn's e-club @ villageinn.com to receive free specials. You can also be the first to know of Village Inn's specials by following Dow Sherwood franchise Village Inns facebook page, as well as on twitter at @DSCVillageInns.

The newly remodeled store will open June 12th at 2525 Gulf to Bay in Clearwater, FL. Hours will be: Sunday - Thursday 6am to 11pm and will be open from 6am to 1am on Fridays and Saturdays.