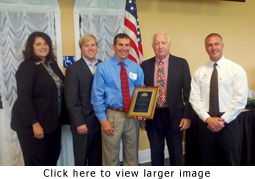 Last week, one of our owners, Jim Walker, was recognized for contributions he and brother Paul Walker have done for the Town and Country Community. This award was given by the Upper Tampa Bay Chamber of Commerce, a board that Jim has been a long standing member of.

According to Jerry Custin, President and CEO of Upper Tampa Bay's Chamber of Commerce, "Village Inn and Dow Sherwood have been a stable bedrock business in that community as far as I can see. It is tough for us sometimes to get cooperation on issues that are important to the residents as expressed in their community plan. Jim and Dow Sherwood have stepped up to the plate every time that I can think of from the inception of the overlay districkt. Well deserved! It's easy enough to award things to some folks that kind of do things but seek notoriety to some degree. We try and recognize the people who quietly do the right thing because it is the right thing to do."

Jim, his mother and wife all attended the wonderful award luncheon at beautiful Tampa Bay Downs. Below is a copy of the speech that was delivered as Jim received his award.